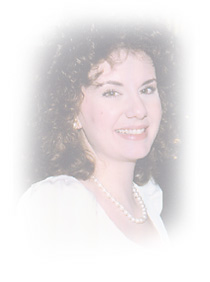 Ta-Da! International is dedicated to the memory of Moira Ann Heraty, who during her illness would call me with her little victory stories and together we would shout, "TA-DA!" Moira was a bright, sensitive and openhearted woman who brought laughter and joy wherever she went. She had a great sense of humor, a ready wit, and a keen eye for the paradoxes of human behavior.
Moira had MS and her illness was a never-ending series of devastating losses. For Moira it was a capricious disease wreaking havoc with every progressive shock out of remission. She was challenged daily by such things as a loss of taste buds, double vision and an inability to walk. When one of her symptoms subsided she wanted to celebrate. For example, she would call and say in an upbeat voice, "Guess what mom? I would dutifully reply, "What?" and she would share a little victory story. She might reply, "Today I can taste my food." or, "Today I can read." Together we would shout TA-DA!. I now realize our TA-DA! ritual kept us both going.
Another example came from a dear friend who lost his mom. He told me, "While at the hospital, I reflected on a day, about a year ago, when my Mom called to tell me that she had a day without any pain. She was so happy that she cried. I (too) was happy for her and I expressed it as much as I could. It was not until I understood what you are trying to do how important it would have been to celebrate that day - pick her up for an ice cream, go for a walk - whatever. I did not understand the magnitude of that day. One can feel so helpless when you can't fix or even help those things that are going wrong; however, we can do something about the good days."
During my twenty-two years as a depth psychotherapist I listened to many little victory stories. Stories about overcoming a multitude of personal challenges such as familial abuse and addictions. The types of challenges that most of us do not need to celebrate when overcome. It made me aware of the small steps of healing that lead to bigger steps, then strides, then leaps. It's been very rewarding work. TA-DA!
Please support Ta-Da! International in its infancy. Help Ta-Da! take those tiny steps that will lead it to greater things. Your support and donation will help someone with exceptional challenges celebrate a little victory.
You can donate through this website or send your Ta-Da! support to: Ta-Da! International, 2626 N. Lakeview Ave., #2410, Chicago, IL 60614-1821.