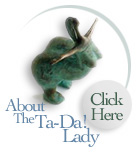 Welcome!
Below you will find important information about who we are, our goals, our mission, and also ways in which you can help to make Ta-Da! become a wonderful reality!

Mission
Concept
Methodology
Fund-Raising Efforts
It is the mission of Ta-Da! International to be a free, virtual resource for people with exceptional challenges and their caregivers. We will recognize, celebrate and support their little victory stories and then post them for others with the same type of challenges for encouragement and inspiration.
Ta-Da! International is designed with people in mind. Over the past four years we have learned that everyone, people just like you, know at least one person that has an exceptional challenge. For those brave souls and the people who care for them we are designing a free, interactive web site to enhance and promote self-esteem for the Ta-Da! Storyteller and encouragement and inspiration for the readers. This will be done by posting anonymously a "Little Victory" story and have the story be available for people to read for inspiration. This interactive, virtual little victory process will be accessible to all in a user-friendly format.
The website is being designed to reach out to children, adolescents, and adults who are experiencing any type of extraordinary challenge in life. This includes but is not limited to chronic illness (both physical and mental), developmental disabilities, learning disorders, traumatic experiences, significant losses, substance abuse, etc.
Once Ta-Da! International is up and running an extensive outreach program will be launched reaching out to medical rehab professionals, teachers, caregivers, etc, and those struggling with challenges urging them to share "little victory" stories, however brief. They can submit their "little victories" for posting according to age gender and type of challenge. They will immediately be celebrated by our wonderful Ta-Da! Lady.
Once posted others can log on to read the little victory story for support and inspiration. Some examples might be: "I took my first step today," or "I brushed my teeth by myself," or, "I didn't use today." There will be no limitations, as each little victory stands alone and will be respected as unique and significant to the storyteller. A series of consultations with people with disabilities has led to a request that little victory stories be archived (with permission) and that there be an audio component for blind people. Our commitment is to growth and refinement so we are open to feedback at all times.
Thanks to support from people like you we are on track in our fund-raising efforts. Ta-Da! We agree that we will develop the sample site and final "dream site" by 2005 or spring of 2006 at the latest.
Please visit the The Red Shoe Events web site to learn more about our efforts.
The Red Shoe Events are the fundraising activities of Ta-Da! International. They are fun events for a serious cause. Due to its virtual nature and the fact that all parties connected to Ta-Da! International are volunteers our overhead is extremely low. We can guarantee you that at least 95% of your donation will go directly to developing the site. That undertaking is our biggest expense. After that, the marketing of Ta-Da! and the technical maintenance will be relatively inexpensive.
Ta-Da! International is a charitable 501(c)3 organization. All donations are tax-deductible. Ta-Da!'s anniversary is December 23, 2002
Finally, Ta-Da! International is dedicated to the memory of Moira Ann Heraty, 12.18.67-1.08.00 whose "little victory" stories inspired this project